Welcome to all of the new subscribers!
This is the "When I get a round tooit" Creation/Evolution newsletter from Ian Juby and the traveling Creation Science Museum of Canada.
If you do not see a header image above this text, you may have to turn on images in your email program, or you can click here to view it in your browser.
If you're really confused as to why on earth you're getting this newsletter, you may have forgotten you signed up for it at one of Ian's lectures, or you got it due to an error in the cyberspace post office.  See removal instructions at the bottom of the newsletter.
In this far-too-packed newsletter (I'll keep the articles short because there's just so much to cover):
1) Portable Museum: First shipping container arrives
2) Rotten Paleontology
3) CrEvo Rants, Volume II – now on DVD!
4) Nuther New Rant Uploaded!
5) Youtube channels you gotta see
6) Upcoming talks and tours
7) Another give away – Brock Lee's brand-spankin' new book!
8) Creation Dinosaur Dig with Dr. Aaron Judkins
9) Mailbag: Comments on "Persuaded by the Evidence" movie trailer
< ***********************************************************
1) Portable Museum: First Shipping Container Arrives.
Praise the Lord with me please!  Thanks to the financial support of many people, I was able to get the first shipping container, which is now sitting in my mother's driveway (please pray for my mother who has to put up with my antics), ready to be converted.  To me, it's a thing of beauty!  A downpayment has already been made on the second container, identical to the first one:

It's a 40′ long, insulated, climate-controlled "high cube," which means that it is taller than your average container, as it's 9'6″ on the outside.  It was more expensive to get the insulated version, but it would have been about the same cost (because I would've had to have insulated a standard container anyway), but saves many weeks of hard work to insulate the containers.

"Climate controlled" means it already has heating and air conditioning built in.  Again, assuming that I'm able to use these systems, then that also saves a whole wack of more time and money.  When looking at the inside, just remember that with the walls sliding out four feet on either side, the interior size will almost double.
I am super "wired for sound" excited about this, please keep praying!  And if you can, please chip in financially!  I have to focus on paying for the second container before I can start major work on the containers.
Are you gonna paint it?
Yup.  Wait for it!  I have a lot of cutting, hacking, and welding to do on it, then when it's completed, the last step will be the outside paint job.  It will be very eye-catching.  First step will be building the lift system and dollies for moving the containers on-site (and in this case, it's the construction site)
634 people needed!
If you recall, I was calling for 750 people to donate $100 each.  Some of you donated two or three times that amount – thank you.  We've now had the equivelent of 116 people donate or loan to the project.  Also remember, corporate or business sponsorship is welcome – if you have a business, and national exposure would be beneficial to you, drop me a line or give me a call and we'll talk.  There's plenty of ways you can sponsor!
Keep tabs on the updates and stuff, and read about the project here:  https://ianjuby.org/creationmuseum.html
***********************************************************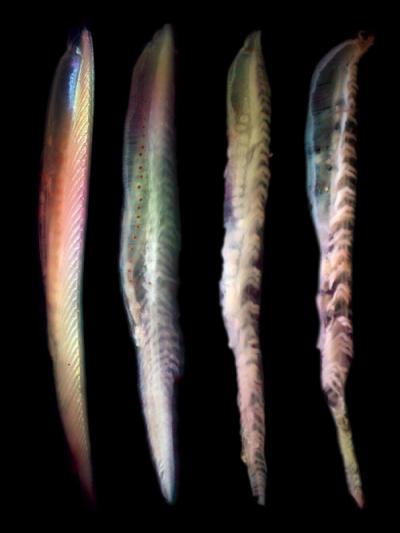 Four stages of fish decay, as shown by the researchers who wrote the

Nature

article.(Photo Credit: Mark Purnell, Rob Sansom, Sarah Gabbott, University of Leicester)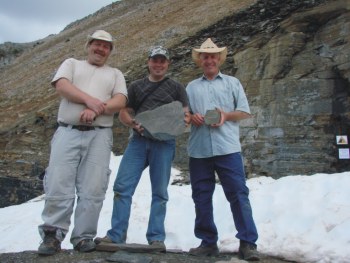 Vance Nelson, myself and Harry Nibourg on site at the Burgess Shale
2) Rotten Paleontology
(with a nod to David Bump for calling our attention to this research)
A couple of weeks back, a very meaty article came out in Nature magazine that examined the way fish decayed – something stinks in paleontology.  You may not see the connection at first, but their point was that it was simply assumed that various fish parts would decay at random.  Thus, when a paleontologist looks at a fossil fish, they will assume that "what you see is what you had."
Let's put it another way: An evolutionist will look at a fossil fish, and let's say it's missing a certain part – like a fin.  The evolutionist will then interpret this lack of a fin into his evolutionary picture, i.e., "Oh, these fish had not yet evolved a fin in this area – but the bones for the fin to anchor are there, the anchor bones had already evolved."
As it turns out, this has absolutely nothing to do with evolution, but rather decay of a dead fish.
As the lead author, Mark Purnell wrote,
"The issue is: is a character not present because it was never there or is
it that the character was there and had rotted away. In cases where all we
have are decay resistant structures we have to be very careful"
In fact, it turns out that some of these structures are the most important structures for figuring out where this creature in question fits into the evolutionary tree!
For the experiments, the researchers used a type of sea lancelet, which is significant (shown right).  Vance Nelson (Creation Truth Ministries) and Harry Nibourg (Big Valley Creation Science Museum) and I went on a gruelling research hike to Canada's famous Burgess Shale last year.  One of the famous fossils from that sight is known as Pikaia, the supposed ancestor of….you!  That's right, because Pikaia has a notochord (a soft, flexible back-bone), and because it's in such old rocks, it's assumed to be the ancestor of all modern vertebrates (creatures with bones).
However, Pikaia looks remarkably like the modern day sea lancelet (you know – those critters in the photo on the right?  No, not the three guys, the four little fishy thingies).  And now it turns out that the evolutionary interpretation that Pikaia is not the sea lancelet is called into question because Pikaia may simply be a sea lancelet which has partially rotted.
As the Nature article put it:

"The team found that as these modern animals decay,

the features that
evolved more recently

, and

therefore distinguished them from their
ancestors,

rotted first. The last things to decay were features such the
notochord.
This means that as they rot, the lamprey and the amphioxus seem to slip
from their 'crown' positions at the top of the phylogenetic tree back down
to 'stem' versions of their actual species and eventually look like the
common ancestor of them all."
(italics and blue text mine)
The significance of what is said here cannot be overstated: The position of these organisms on the mythological phylogenetic tree has
nothing to do with evolution
,
and
everything to do with how they rot!
I dealt with the mythological phylogenetic tree in a
previous newsletter
(More badyear, and "Would you believe, a Hippo is a pig?")
You can read a layman's version on the research presented in Nature here:
http://www.physorg.com/news184141780.html
Complete with a video!


***********************************************************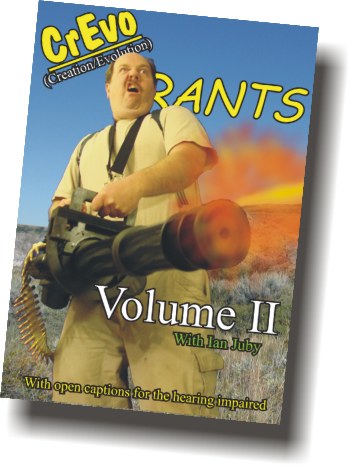 3) CrEvo Rants, Volume II – now on DVD! (plus another new rant)

Aaaand here we are!  CrEvo Rants on DVD, the second volume!
In Volume 2 you'll find the funny, fast, hard-hitting rants you've grown to love such as:
Rant #19: Mailbag II. For this rant, Ian dives into the mailbag to respond to viewer questions and comments.
Rant #35: Problem solved: Increase in information.  Ian addresses the idea that somehow a bacteria can increase information in its genetic code.
Rant #67: Poor design? A response to the rather arrogant claim that we are poorly designed.
Rant #37: Mailbag III. Ian just couldn't stop responding to more emails from viewers.
Rant #93: Frogs R Useful, part I. Ian uses frogs to explain the first scientific and natural laws that evolution must violate.
Rant #78: Genetic Entropy. Boy are we in trouble!  Our genetic code is deteriorating, which is the opposite of evolution, and it proves we could not have been here for long. (First guest appearance by the minigun)
You can click here to go to Ian's website and order it,
or you can use this here fancy "Add to Cart" button to order it for a mere
$15 + $3 S&H:
Or – get a deal on Volumes 1 & 2: Buy Volume 1, get Volume 2 for just ten bucks!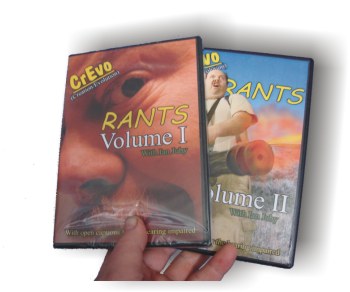 $25 +$6 S&H

(If you previously purchased Volume 1, just make a donation of $13 here, and include in the note that you'd like to add Volume 2 to your previous purchase)
***********************************************************
4) Nuther New Rant Uploaded!
In the meantime, I've been at it again, producing another rant since the last newsletter.  Just remember your R's: Rate and Rant!  If you haven't subscribed to my youtube channel yet (http://youtube.com/wazooloo) please do!  I'll be really thankful!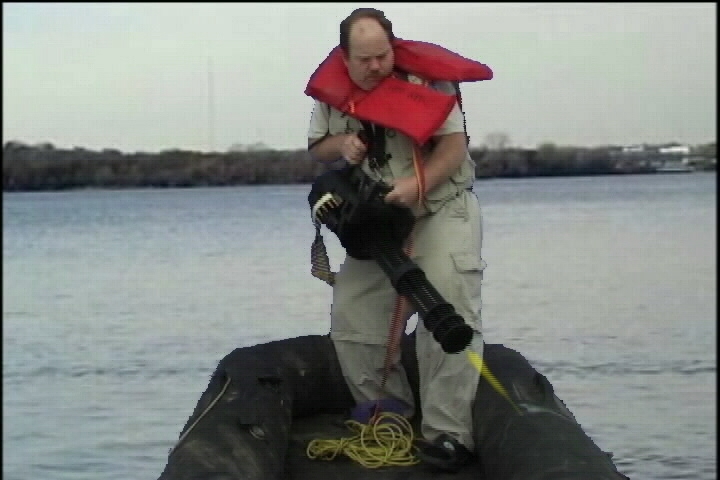 Rant #78: Genetic Entropy
In this rant, Ian explains Genetic entropy and how it relates to the creation/evolution controversy.
And also don't forget, all rants are on the "CrEvo Rants" Playlist on my youtube channel:
http://www.youtube.com/user/wazooloo#grid/user/B228C26CBD74D87B
***********************************************************
5) Youtube Channels You Gotta See

Something I haven't done in quite some time is point to good quality creation-oriented websites.  Well, with the advent of online videos, a number of creation ministries and up-and-coming creation video producers have made their first appearances.  So I thought I'd give a plug for some youtube stars, and encourage you to visit their channels and – if you can – subscribe!  It's totally free (yes, even the subscription) and it's very encouraging for the producers.  Plus, high numbers of subscribers attracts more subscribers, and the more people we have subscribed to christian producers on youtube, the better.  Here's just a couple of picks for today's newsletter:
Russ Miller's Youtube Channel: I met Russ on the set at TBN studios in Dallas, Texas, a few years ago as we were both guests on "Creation In The 21st Century"  Russ is an excellent researcher and speaker.
http://www.youtube.com/user/CreationMinistries
Gman – Grant is a film production student in my "second home" of Texas.  While a lot of his videos are of just random things, he's a big-time creation junky:
http://www.youtube.com/user/gmanmp1821
Wild man Dan! I had the pleasure of meeting Dan a number of years ago in Pensacola, Florida.  Currently, Dan is actually walking across the United States to share the gospel of Christ.  He started up "The Truth Group" and is always involved in excellent video productions, many of which are creation-orientd.  You can catch his creation vids, and follow his trek across the country on his youtube channel:
http://www.youtube.com/user/theTRUTHgroup
**************************************************************

6) Upcoming talks and Tours
Anyone in Newfoundland who thinks they might have a group interested in having me speak, please drop me an email, or call toll-free for more information: 877-532-9160, ext 100.  Remember, a free DVD and info packet are available upon request.
February 28: Lifebridge in Halifax, Nova Scotia.  Morning family service
March 7: First Pentecostal Church, Cornerbrook, Newfoundland – start of the Newfoundland tour!
March 8-13: Pasadena, Newfoundland – details to come
March 14: Springdale Pentecostal church, Newfoundland
March 21: Rocky Harbour Pentecostal church, Newfoundland
March 25: Clarenville Pentecostal church, Newfoundland
March 28: Southbrook Pentecostal church, Newfoundland
All March: Newfoundland – Sundays are packed, several churches are looking at other venues, but if you're interested in having the museum come to your group, please contact me!
April 2: "No Other Name" conference, Ottawa, Ontario
April & May: All over Ontario – contact me if interested.
May/June: All over western & northern Ontario, Manitoba and Saskatchewan – details to come.
June-August: Alberta, British Columbia – looking for bookings.
July 1-4: David Thompson Bible Camp, Family camp, Alberta
July 12-16: Day camp, Edmonton, Alberta
Everything you wanted to know about Ian giving a talk to you group, but you were afraid to ask:
Click here.
**************************************************************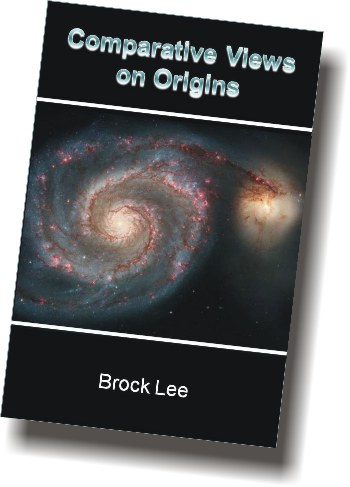 7) Another give away – Brock Lee's brand-spankin' new book!
Hot off the presses – Brock Lee's new book "Comparative Views on Origins," is an exhaustively researched book.  Suitable for homeschoolers, it covers the full gamut (is that a word?) of the origins controversy.  24 different origins views compared with 525 quotations and 185 different sources.
I'm giving away two copies of Brock's book!  (You can also order them from my website for $15 each, plus $5 S&H if you just gotta get yourself a copy.)
So just like before, we have a skill-testing question which, if you answer correctly before the final submission date, you'll have your name entered into the draw to win one of the two give-away books.
And the million dollar question is (Okay, actually it's only a $20 question):

In "The Complete Creation" video series, part 21, I spent most of the video talking about one "hominid" skull which caused all kinds of problems with "scientific" dating methods.  Name that skull. (hint: It's a number)
Email your answer to: contest@ianjuby.org  before March 4th, 2010 to be entered into the draw.
***************************************************************
8) Creation Dinosaur Dig with Dr. Aaron Judkins

It's not very often you get to go on a real dinosaur dig….you know, dig for real dinosaur bones!  And it's even less frequent that you get to go on a dinosaur dig run by creation researchers!  I've seen more then one dinosaur dig where they charge $1,000/day/person.
My good Texan friend, Dr. Aaron Judkins, will be leading a dinosaur dig at the ranch of Otis Kline, in Glendive, Montana – the famous Hell Creek formation which contains copious amounts of dinosaur bones and evidence of Noah's flood!  While you're there, be sure to visit Otis's brand-spankin' new creation museum which just opened last year (the largest one west of the Mississippi), and one of the ten creation museums which has displays contained within it that I built.
Here's the press release:
July 12-16th, 2010 Glendive, Montana, Dinosaur Excavation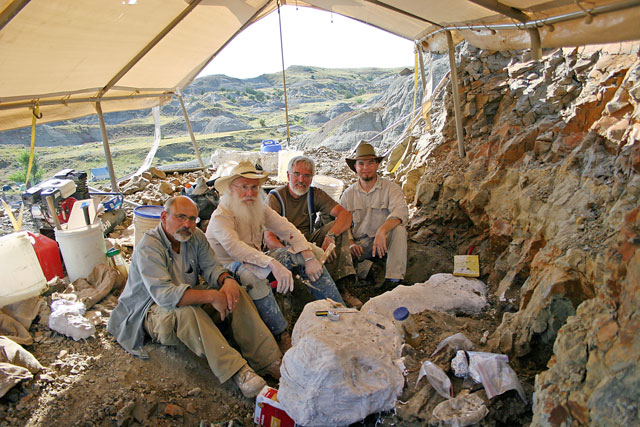 We host this dig once a year and offer you the opportunity to find,
excavate, plaster, remove and prepare real dinosaur bones! You will be
trained by professionals and learn incredible truths about our Creator.
Come experience 4 days and 5 nights of meaningful fellowship, delicious
meals, and exciting hands-on education. Guests can choose to reserve
either a campsite or near-by hotel room for overnight accommodations.
Guest are responsible for their transportation and accommodation costs.
The dig fee covers:
* Lunch and dinner, plus snacks and drinks on site.
* Daily transportation to and from dig site.
* Entrance fee
* Creation Studies workshop led by Dr. Aaron Judkins at the Comfort Inn meeting room.
* Necessary tools and supplies at the dig site: tables, shade, and toilet facilities.
* One dig supervisor / instructor for each 7 guest.
The Journey of a lifetime …
* Explore the past as it unfolds before your eyes.
* Professionally excavate fossil sites.
* Identify, collect, and interpret fossils.
* Grid, record, and document findings.
* Analyze paleontologic evidence.
* Compare evolutionary and creationist worldviews.
* Participate in evening workshops.
* Study ancient life through geology and biology.
* Observe many sedimentary layers caused by catastrophic erosion.
T-Rex, Triceratops, Ankylosaurus, Edmontosaurus, pachycephalosaurus and
Maiasaurus
We have also found fossils of plants, as well as other reptiles and
aquatic animals. More than just bones, each evening, God-honoring
workshops will connect the day's experiences to the life-giving word of
God. The teaching, stories, and photos will be a source of vivid memories
for years to come.
REGISTRATION FEES (per person)
Cost per person: $750.00 Please send your deposit of $200 to reserve your
spot. Full payment must be recieved before May 1st.
Register after May 1st: $950. Please make your checks payable to Aaron Judkins.
For further details,  email aaronjudkins@yahoo.com
***************************************************************
9) Mailbag: Comments on "Persuaded by the Evidence" movie trailer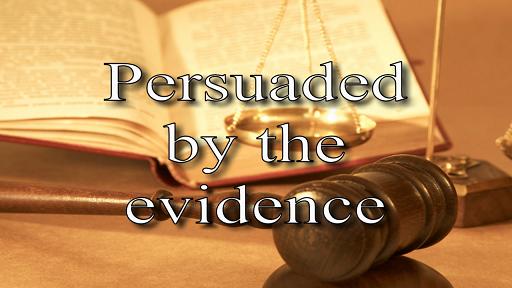 If you recall, back in January I posted the trailer for the upcoming "Persuaded by the Evidence" movie, which I hope to release this summer.  These are the first-hand testimonies of former evolutionists and some atheists who are now young-earth creationists and born-again Christians.
Well since the release of the trailer, I've gotten a pile of feedback, and it's very enlightening to see what's been written thus far.  Any comments of mine are in blue.  Enjoy!
———————————————————————————
"@knutsondc Dang, you just wrecked that guy. He couldn't even answer. But he leaves his dishonest video up. What a &*%$#@* scum bag.  @wazooloo And you call yourself a "Christian" ?? Is this truly how christians are supposed to act? You should be *$%&^#@* ashamed of yourself. Dishonest creep. If you had any integrity – personally or intellectually – you wouldn't leave misleading rubbish like this online. What if an impressionable kid finds this and actually believes this *&@#?"
-Isn't it interesting that he wrote this regarding a movie trailer! An advertisement for a movie!  Can you imagine what they'll say when the actual movie comes out? – IJ
———————————————————————————————————
"Persuaded by what evidence? As AronRa says 'there has never been a single verifiably accurate argument of evidence indicative of miraculous creation over biological evolution or any other avenue of actual science. NOT ONE, PERIOD"
———————————————————————————————————
"Have these guys even heard of comparative genomics? Are they aware that they share thousands of pseudogenes, ERVs, and Alu elements in the same positions in their genomes as other species?  There is no chance of this being true without common descent."
-Again, remember that this is an advertisement for a movie.  Oh I assure you, I'll be dealing with some of this "science" (falsely so called) in the movie itself. – IJ
———————————————————————————————————
"how can they be taken seriously just look at their offices no antique bookcases or mansions "
-Clearly written by someone who has an office with antique bookcases and a mansion, as such people are really the only credible ones we can find today 🙂  – IJ
———————————————————————————————————
"I don't think those guys are scientists at all, certainly not biolgists or anything close to that. Evolution is considered a fact today, and it has already become applied science in some fields:)"
———————————————————————————————————
"Absolutely fantastic Wazooloo! I am anxious to watch the entire program. The entire world needs to see it. "
———————————————————————————————————
"If you were to be persuaded by the evidence, IE how every tree from every field that can even be semi-related to biology is completely identical, you would know that evolution is a fact. I still have yet to hear anyone explain ERV's without the use of common descent or 'the designer just made it that way' and thats only one small, albeit very specific, facet."
-Interestingly, I will be addressing ERV's in a future rant – IJ
———————————————————————————————————
"nice ! "
———————————————————————————————————
"God bless you and protect you. you are doing a great job in my prayers in Christ Jesus Rob "
———————————————————————————————————
In closing, let us remember the words of Christ our Lord: "Blessed are ye, when men shall revile you, and persecute you, and shall say all manner of evil against you falsely, for my sake.  Rejoice, and be exceeding glad: for great is your reward in heaven: for so persecuted they the prophets which were before you."  (Matthew 5:11,12)
***************************************************************
These newsletters typically take about 20 to 40 hours worth of work.  Help keep them coming by making a donation – you can now make tax-deductible donations to support this ministry.  If you don't need/want a tax receipt, you can donate online here, or you can support this ministry and get a tax-deductable receipt by mailing a donation to CORE Ottawa, Kanata North Post Office Box 72075, Ottawa, ON. Canada, K2K 2P4