Description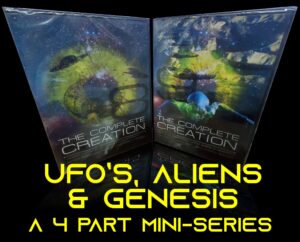 This four part mini series was a special production created in the middle of the Complete Creation 3rd Edition in response to the declassifying of UFO encounters by the U.S. military to Congress. Ian gives an exhaustive overview of this fascinating and sometimes dark and disturbing subject.
Starting off with statistics (You are not alone! And we don't mean you're surrounded by aliens), Ian then proceeds to recall mind-boggling human technologies that were deemed top secret. Then he delves into how 'aliens' are firmly rooted in evolutionary thinking and refuted by Biblical creation and scientific evidence. Lastly, Ian explains the gospel according to E.T. which may surprise you.
This is a 2 disc, wide screen standard definition DVD set.