Itinerary
---
This is a list of presentations I'm doing or local events scheduled. For more information, e-mail me or see the listing for the contact person.
Request a travelling presentation for your group today!*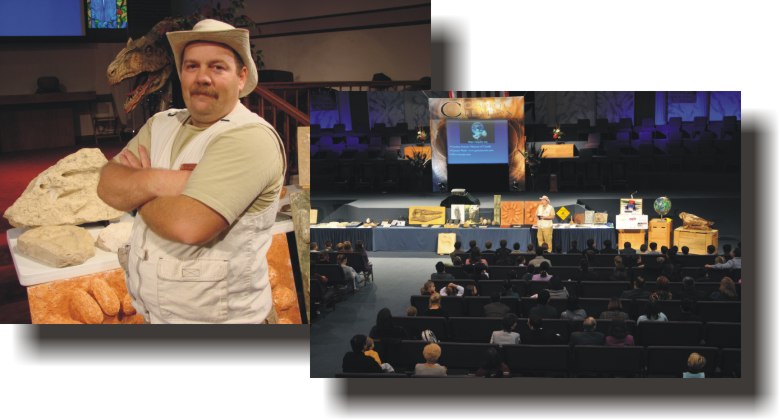 2009


"Happy Birthday Darwin" tour - all year long for the 'year of Darwin'


April 21: Milwaukee Creation Science Association
April 23-27th: Quad Cities Creation Science Association, Davenport / Betendorf, Iowa
May 9-16th: Akron Fossils and Science Center's Creation Fair
May 24th: Pembroke Pentecostal Tabernacle, Pembroke, Ontario
June 14: Causeway Christian Assembly, Ennismore, Ontario (Contact Ian Juby for details)
June 21-August 15th: All over Alberta (Most of these are teen Bible camps and may or may not have public sessions - check back later for details)
July 4th: Creation Evidence Museum's 25th Anniversary, Glen Rose, Texas


September 12:

Eglise Chretienne de l'Ouest, Pierrefonds, Quebec, 3pm "The dinosaurs and the flood"


September 13:

Assemblee Chretienne de la Grace, Victoriaville, Quebec 7 pm, "The dinosaurs and the flood" (en francais)


September 18-23:

Creation Evidence Expo, Indianapolis, speaking on the Paluxy tracks and showing one of the largest collections of fossil human footprints on display (http://www.creationevidenceexpo.org/)


September 27:

Kemptville Pentecostal Tabernacle, Kemptville, Ontario, morning service "The complete creation"

Coming up: October 25 - November 30ish, EAST COAST TOUR! Yup, I'll be bringing numerous displays from my traveling museum to New Brunswick, Nova Scotia and yes, even Newfoundland. Email me or phone 877-532-9160 to book a talk for your church, school, homeschool group or creation group.
(Dates are approximate) October 25-November 15, New Brunswick/Nova Scotia. November 15 thru 30th, Newfoundland.
If you think you may be interested, here is a short promotional video: http://www.youtube.com/watch?v=RYNXaxPP8yc
Or you can email or call and request a FREE DVD for your Pastor or group.


November 7 & 8: Glad Tidings Tabernacle, Embree, Newfoundland
November 11 & 12: Grace Pentecostal Church, Bona Vista, Newfoundland
November 20: Youth night, Glad Tidings Tabernacle, Embree, Newfoundland
November 26: Abundant Life Pentecostal Tabernacle, Leading Tickles, Newfoundland


December 13:

All day with Centre Évangélique de Châteauguay, Montreal, Quebec




2010




January 26: Cobden Pentecostal Church children's event.


2008


October 9: Akron fossils and science center, Akron, OH
October 11, 12: Brooklyn Reformed Church, Cleveland, OH
October 21: Minneapolis, MN, TCCSA
Nov 1: Creation Evidence Museum, Glen Rose, Texas
Nov 4: MIOS, Dallas, Texas
Nov 14-16: Creation Discovery Center, Abilene, Texas
Nov 24 & 25: TBN studios, Dallas, Texas



2006


January 4, 5, 6th: Dallas, Texas, TBN studios for recording on Dr. Carl Baugh's show, "Creation in the 21st Century"
2006 US tour! (This is the tour Kent Hovind refered to on his website, www.drdino.com)
After the recording I will be on tour with a pretty good chunk of the museum displays throughout the United States and eastern Canada until Mid-February. Email me or call (613)401-2729 to set up a stop with your group. This is a tentative schedule to show approximately where I'll be and when.
Check back here often for actual dates, locations and events as the bookings and stops get firmed up - and don't be afraid to ask if your place seems "a little out of the way" - there may be plans in the works that will fit your stop in better than you think.


January
1st week (4-6th): Dallas @ TBN


Jan 10: Trinity Christian Academy (Tentative), and various churches around Paris, TX
Jan 11: Redwater, TX
Jan 15: Weatherford, TX
3rd week (15th -21): Oklahoma, Kansas & Missouri? (bookings being arranged)
4th week (22-28): Illinois & Indiana
5th week (29-Feb 4): Michigan, Ohio & Kentucky
February:
Feb 5 - 11: Pennsylvania, New York
Feb 12-18: Massachusetts, New Hampshire, Maine, New Brunswick & Nova Scotia, Canada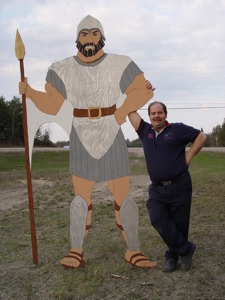 Coming in the summer of 2006!
Vacation Bible Schools and the traveling Children's Creation Science museum and playland
Our goal for the playland is to have every station a hands-on, scientific and biblical lesson.
However, sometimes the station is just for fun!

The playland can be set up by itself, or in conjunction with your event, or as a summer day camp. You can also sign up for a Vacation Bible School program which includes the playland.
Our VBS programs are a half-day with songs, puppets, a Creation lesson and crafts. Each day we'll haul out a special artifact or display from the museum and a new science playland station. It's all geared to help kids grasp and remember science and the bible!
Try our dinosaur hunting range where you launch waterballoons with our giant slingshots and try to hit the dinosaurs for points, or our life-sized Goliath (shown right) for bonus points. We'll have fossil digs (yes, the kids keep the fossils they find!), creation crafts the kids can bring home, puppets and songs - oh, and of course we'll have a whole wack of displays from the traveling Creation Science Museum of Canada: Dinosaurs, big biological machines, fossils, our fossilized teddy bear and more!

-Can you pick up your parents on our mechanical advantage teeter-totter?
-Can you pick off Goliath with the giant slingshot?
-Can you assemble an eye in our "blind maze?"
-Talk to your friends across a yard with our super-ear, but be careful what you say - God hears you just as well!
-Make your own fossil cast, just like the museums do!

Sign up today to reserve your dates for the playland! Email Ian.


2005


March 16: "The Hootch", Toronto Venue changed!
It is now being held at "Stone's place", 1255 Queen St. West, Toronto. I was told it was a "bigger venue, bigger fun"
10 pm to 12:30ish, I'll have some of the museum displays set up and will be speaking on .......ooohhh, I dunno, I'll figer that out when I get there!
Hope to see you there!

NATIONAL CREATION CONFERENCE TEEN EVENT - Ottawa
Friday, April 1st, "No fools here" event (Psalms 14:1), Woodvale Pentecostal Church (subject to change - check back here later!)
Laurence Tisdall (president, ASCQ) and I will be giving an advance conference session just for teens. Some of the Creation Science Museum of Canada museum displays will be there, and the theme for the night is "Proof that God exists."
The Conference webpage is here.

NATIONAL CREATION CONFERENCE - Ottawa
March 15th through the 17th - Times and locations are potentially subject to change, so check the NCC webpage
The Conference webpage is here.


"Creation Boot Camp", Pensacola Florida, May 13th through 15th
Here's the official website, held at Dinosaur Adventure Land. I will have a booth set up with some museum models. Make sure you stop by and visit, as DAL is a wonderful place for kids and adults alike.


The 2005 Texas Grand Tour:

September 16: I will be at Trinity Broadcasting Network's Dallas studio recording two shows of "Creation in the 21st Century" with the host, Dr. Carl Baugh.
September 19 thru 30th I will have the museum set up as a special exhibit at the Mt. Blanco Fossil Museum in Crosbyton, Texas.
October 1st: "Director's Lecture Series" at the Creation Evidence Museum: I will have my museum pieces set up there for a special exhibit in the new building. Dr. Carl Baugh and myself will tag team throughout the day giving lectures.
October 3rd through 15th: Mt. Blanco Fossil Museum, special exhibit
October 11 & 12: "Starting your own Creation museum" workshops. Joe Taylor and Ian Juby will share their lessons learned on how you can start your own creation museum. We have a war to be fought - come learn how to arm people for the fight! Find out what works, what doesn't, tips that Ian and Joe have gleaned from decades of experience, and more. Bonus: We will be digging up a Mammoth on the 12th! Click here for more details on both of these events.
October 17 through 21st: I'll be participating in the Paluxy excavations in Glen Rose, Texas. The museum will be set up as a special exhibit during this week.
October 25th & 26th: Cleveland, Ohio at the Brooklyn Reformed Church, located at 9014 Biddulph Rd. 7p.m. each night.
October 30th: Akron fossil museum & science center, 10 a.m. See the museum's website: http://www.akronfossils.com/


November 13th: Corridor Community church, Latnz, Nova Scotia. Evening service @ 6:30



November 20th: Pembroke Pentecostal Tabernacle, evening service starting @ 6:30 sharp - we'll be showing the new displays and answering some of the detractors.

November / December: I'll be working at the Big Valley Creation Science Museum in Big Valley, Alberta. The website: www.bvcsm.com


---
Television appearances:

"Creation in the 21st Century" with Dr. Carl Baugh on Trinity Broadcasting Network.
Available on large satellite dishes in Canada, and various cable companies in the US. It can also be watched online via streaming video at http://www.tbn.org
The show airs every Tuesday at 7:30 pm Eastern, I will have specific dates here for first-airs of the shows I'm on.

"Truth Quest" - Every Saturday morning on Crossroads television!
Yup, Laurence Tisdall is the "Crazy Creation Scientist who believes the bible from beginning to end. From Genesis to Revelation". I was a guest for numerous shows, and production delays have pushed our shows back to next season, starting in September. We have a timeslot sometime during truth quest which airs every Saturday morning, 9-11 am, Eastern.
Truth Quest home page: http://www.crossroads.ca/tq/tq.htm
Air times: http://www.crossroads.ca/broadcas/100time.htm
You can watch it on:
Channel 538 on Express VU
Channel 355 on Star Choice

*Please read my email policy before emailing me. Sending me an email affirms your agreement to my email policy.